Welcome guys! in this blog, we will be comparing iPhone Graphics vs android graphics to see if there is any difference here, we'll be doing a side by side comparison.
The way how I'm doing is with a vehicle, I got an android account sitting here in the vehicle, and the iPhone account next to it. And another account for driving the vehicle, so that we can get the same view on both accounts at the same time.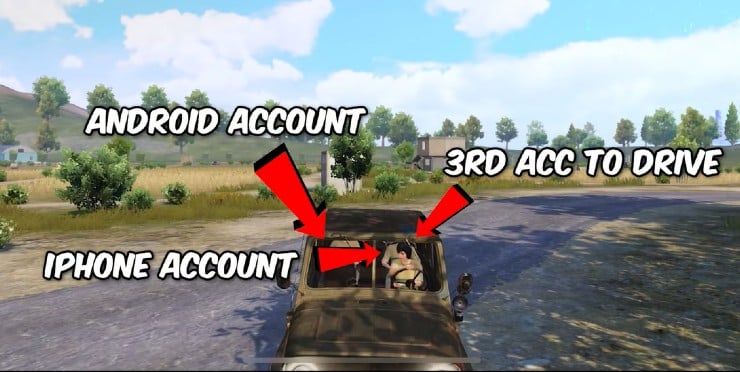 Also Read: MG3 vs GROZA vs MK14 (Ultimate Weapon Comparison) in PUBG MOBILE & BGMI Tips & Tricks Guide/Tutorial
Ultra HD Graphics
Currently, the Ultra HD Graphics is not working, I think it's broken for both android and iPhone, but somehow I managed to make the Ultra HD graphics work on android. If your device supports ultra HD graphics you could also check whether it's working or not, let me know in the comments.
Anyway, the shadows aren't working as well as the water reflections which you can see here. Just to be sure I tried ultra HD graphics on my iPad Pro, and iPhone 11, it didn't work. So I guess it's broken and it wasn't working on android as well but you can force enable ultra HD to work with android.
HDR Graphics
Let's skip to the next highest graphics option which is HDR Graphics. The HDR Graphics pretty much looks the same inside by side comparison, really hard to notice any differences between android and iPhone unless you are looking for it.
The colours didn't look the same for me when I was recording these clips but while editing it looks the same, however sometimes the colors appear darker but they look almost the same. You most probably think these two clips are the same footage but it's not, as I said if you are looking for the differences you'll find them.
Also Read: New Sensitivity Settings (PUBG MOBILE 1.5 UPDATE) ADS Gyroscope Sensitivity Guide/Tutorial
Smoothness
The 1st noticeable difference would be the smoothness, the android gameplay looks kind-a choppy and jittery sometimes, whereas the iPhone gameplay is just smooth overall.
Textures
The next difference would be in textures, this is more noticeable with vehicles textures, the android one looks kinda unfinished and not smooth or it's just bad. This happens with almost all the vehicles as well as with some random objects and obstacles.
Also Read: iPhone 13 Pro Max vs OnePlus 9 Pro vs iPhone 11 (PUBG/BGMI) Speed Test
So now I'm gonna show you a few sides by side comparisons in every graphic setting and also with graphic styles, so you tell me if you could find any differences in the comment section.
HDR Graphics
Colorful
Realistic
Movie
Soft
Smooth
Classic
Colorful
Realistic
Soft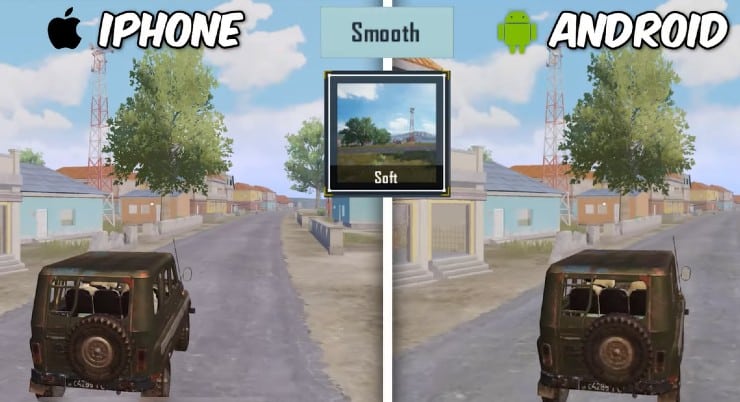 Movie
Balanced
Colorful
HD Graphics
Colorful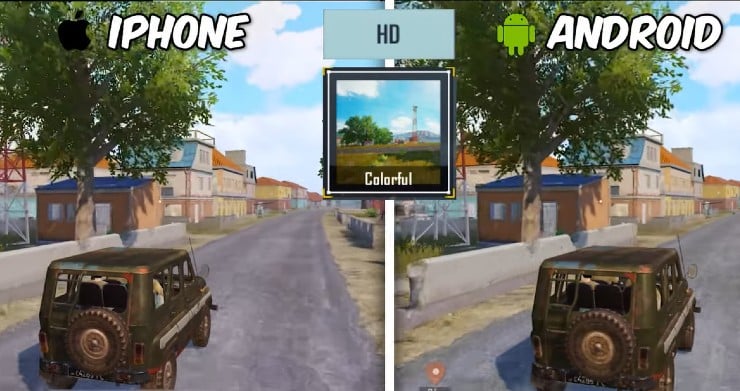 Ultra HD Graphics
iPhone Graphics are not working in Ultra HD.