Welcome Guys! in this blog, I will tell you how you can land faster in Pubg mobile & BGMI. I'm sure most of you already know this, so I will also give you a few tips and tricks that you may not know about parachuting.
Mark the Location
So the most commonly used, or the only way to land quicker is to mark the location in your map. And wait until you reach around 800 meters and jump out from the plane. As soon as you jump out from the plane, immediately move your joystick to a 135-degree angle or 10 o'clock angle. And look down or aim downwards completely by swiping your screen downwards.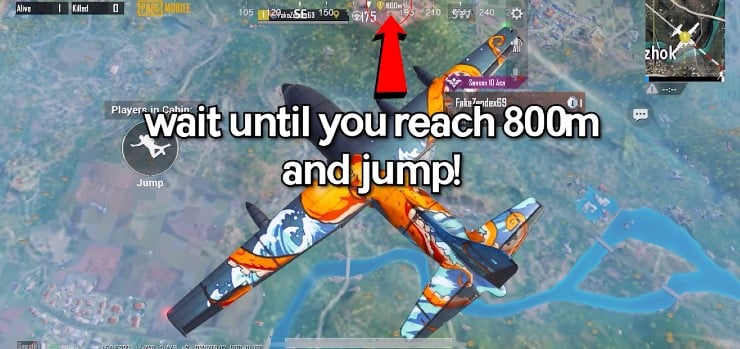 If you do this properly, you will achieve a speed of 234 km/h, which is the highest speed possible. And your drop location must be facing on your top left screen, if not then adjust your direction. When you reach 300 meters altitude your parachute will open automatically on its own. When this happens, move your joystick from a 135-degree angle to a 90-degree angle.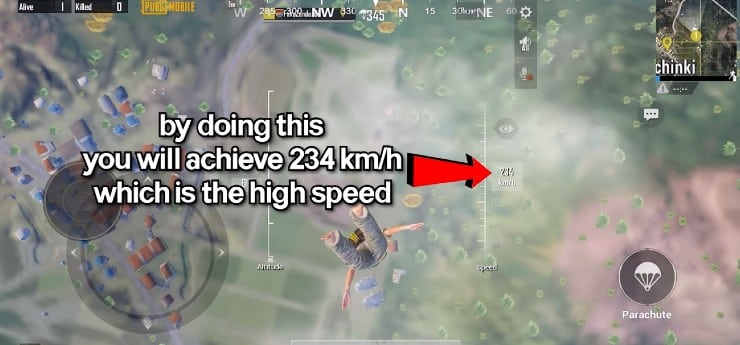 Also Read: MG3 vs GROZA vs MK14 (Ultimate Weapon Comparison)
By the way, don't release your finger from the joystick button. If you remove your finger then it's gonna slow down the gliding process when you really close to the ground. Keep hitting the punch button, which will cancel out the rolling animation. If you didn't hit the punch then you will do a Front roll, which can sometimes be annoying especially when you fall off from the building.
By the way, this is different for each map :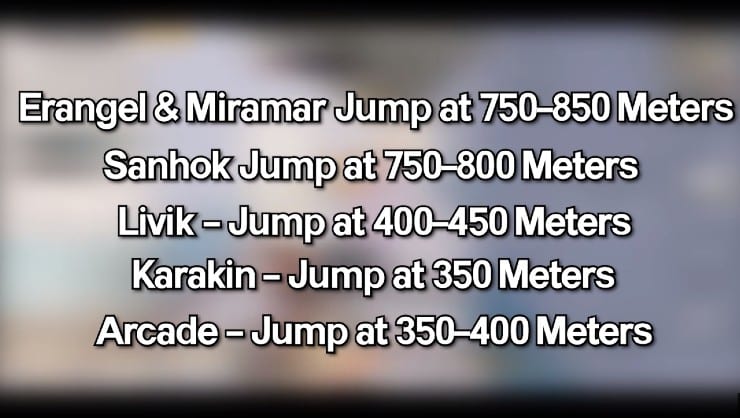 1) Erangle and Miramar will require you to jump at 750-850 meters.
2) Sanhok, it's the same but I would recommend jumping from 750-800 meters.
3) Livik map, you need to jump at 400-450 meters.
4) Karakin map it's around 350 meters.
5) The Arcade matches, it's around 350-400 metres.
So yeah these are the numbers you need to memorize which can be helpful if you want to land quicker. And also this method requires a lot of learning, it might be difficult in the beginning but once you got used to this, you will always land faster. I'm pretty sure almost every player knows about this fast landing method.
What should you do if your drop location is more than or less than 800 meters away from the plane path?
Well if your drop location is around 1000 meters away, you can still do this method. First, try to align your marker to the plane's wing and when this happens, jump out from the plane and drag your joystick upwards, or at a 90-degree angle. And also drag your aim upwards by swiping up on your screen like this in order to make sure that you travelling in the correct direction.
You can check that by opening your map or look for the marker at the top of your screen. Now travel until you reach 500 meters. By the way, use the free look option or the eye button thing to watch out for the other players after reaching 500 meters. Drag your joystick to a 135-degree angle and face downwards immediately.
Also Read: UMP45 Guide/Tutorial (PUBG Mobile & BGMI) Tips and Tricks
Now you will travel at 234 km/h speed until your parachute opens. This method will only work up to 1200 meters, so for 1200 meters, same as the previous one, jump and look upwards and your joystick is at 90-degrees, and travel like this until you complete 75% of the distance. Now switch to the fast landing method immediately when you cross 375 meters.
What should you do if your drop location is below 800 meters?
Once you are on top of your drop location. You need to circle around on top of your drop location and make sure you maintain the 234 km/h speed as constant until the parachute opens.
How far can we land away from the plane path?
For around 1500 to 2000 meters, you can use this method. So it's the same as I showed you before in 1000, and 1200 meters, wait until your drop location is perpendicular to the plane path, and jump immediately move your joystick in a straight-up, and look upwards, and you will be able to travel like this up to 1400-1500 meters, and then your parachute will open, with a parachute you can travel up to 500 meters. so you can easily cover up to 2000 meters by landing like this.
How to land more than 2000 meters away?
Well for this, it's the same as before, when your drop location is perpendicular to the plane path. like Then jumps out from the plane, and immediately look upwards and move joystick upwards as well. As soon as you get the parachute option, press it, and remove your finger from the joystick and let it glide. And maybe after every 30 seconds move the joystick front for a second and then leave it.
If you think you're not moving at all. So after about 3 minutes of parachuting, you will finally reach 2500 meters. So I have tested this multiple times, the maximum distance you can travel away from the plane path is very close to 3000 meters, but hitting 3000 every time is very hard.
Also Read: New MG3 Light Machine Gun (LMG) in PUBG MOBILE & BGMI Guide
I only managed to get 2900 once out of 5 tries but I can guarantee that 2500 meters are possible with this method. But it's gonna take you 3 minutes to reach. Anything more than 3000 meters is not worth travelling through the air, just find a vehicle and go to your drop location that's way easier and faster.
Tip for landing Faster
Here is a tip for landing faster, always pay attention to your terrain, if you gliding over a mountain or a hill it can affect your landing speed, remember that your parachute will open itself when you reach 300 meters altitude.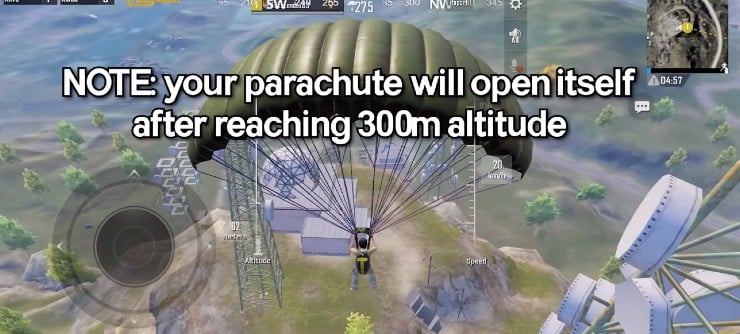 For example, Here I'm gliding on top of a hill, and my altitude is 16 meters, and as soon as I cross the hill, my altitude started increasing. Suppose you hit 300 meters altitude when your passing by a hill, and your parachute opens earlier. But your altitude without the hill would be 500 meters. And once you cross the hill your altitude will increase by 200 meters which will result in you parachuting 200 meters extra making you land slower.
Also Read: Tommy Gun vs UMP45 Ultimate Weapon Comparison
So try to avoid travelling on top of the hills when your parachute is about to open by itself, this can be a huge issue especially on a map like Karakin, since every drop location is covered with mountains.