Pubg (Players Unknown Battleground) is a battle royal game from one of the most beloved games of this era. It is primarily developed by Krafton. The game has a number of specifications, variety, and attractive sections to offer its users. The smooth and rich gaming experience will make you addicted to this game. It is played widely all around the globe and has a lot to offer as a gaming user experience.
Let's not revolve around what PUBG has in overall, for now, let's take a detailed look at the close combat weapons specifically Pistols. Well, a gamer will always go for heavy-duty weapons like M416, Scar-L, AKM and etc. But at times under specific circumstances when you don't have many options to select these pistols can come in handy in-game life-saving options instead of having nothing.
PUBG Mobile also offers various modes in which you can only use pistols like Library and Arcade mode, So it's better to know about the specifications of the pistols which better suit you.
Five Best Pistols in PUBG Mobile
1) Desert Eagle
Sometimes, while playing PUBG, have you ever been surprised by getting knocked out by your enemy having a pistol in his hand and carrying a proper AR like an M416. The Desert Eagle is one of the few pistols which is capable of doing so having an extremely quick fire rate. It's a beast semi-automatic pistol and consists of the highest damage among all.
Desert Eagle requires .45 ACP ammo of white color. Desert Eagle has a magazine capacity of seven (7) it can be extended by attaching extended mag to number 10.
This pistol can create a huge impact on the enemy west, helmet and player itself within a range of 100 meters. It can easily take down the enemy wearing Level 1 and Level 2 protectable.
Recommendation – If a player is good at controlling recoil he must opt for this pistol over others. If you are good at tap shots can switch for the next pistol.
2) Skorpion
"Brother from another mother" this dialogue suits well if compared with Desert Eagle. This pistol recalls small AR guns found easily in almost all the playing maps of PUBG Mobile like Vikendi, Erangle, Sanhok and Miramar.
This pistol uses 9mm orange-coloured ammo with a bullet capacity of 20. After attaching extended mag it fulfils the role of AR with the double capacity of 40 bullets in a single round or a UZI. Although it has the lowest fire rate at 22 you can create a beast by attaching a vertical grip, stock, suppressor and holo or red dot depending upon your choice.
It does act like an SMG after attaching the essentials just placed in the wrong slot of the pistol.
Recommendation – Players having good recoil can use the weapon in the most effective way.
Also Read:
3) R1895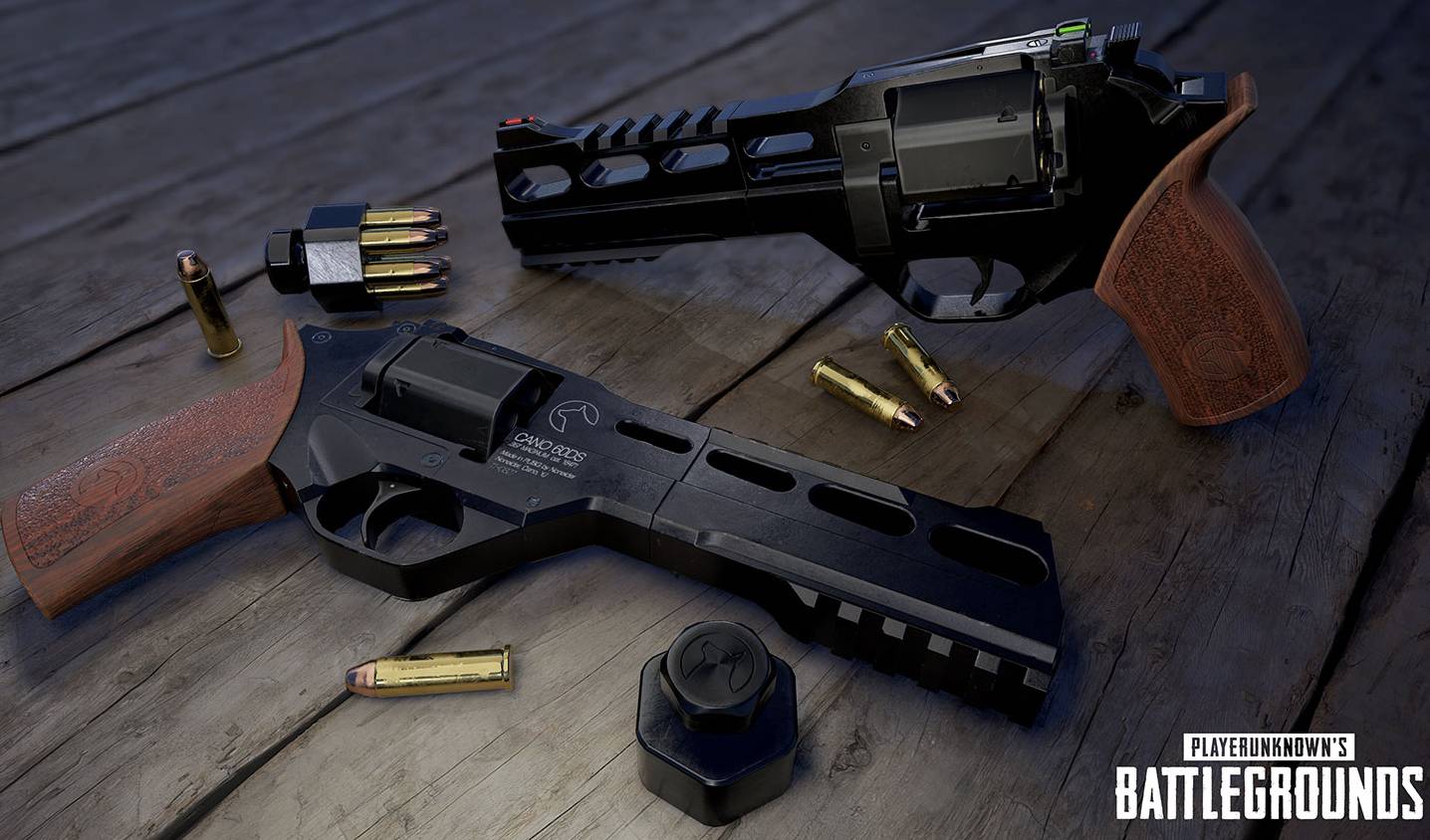 R1895 reminds of old and golden pistols by looks and dimensions. It is one of the OG pistols in PUBG Mobile, surprisingly it deals more damage than an AKM or M416. It's because it's the only pistol that enables 7.62 mm ammo in its magazine, which makes it a deadly one, although it has a slow fire rate if you are accurate it will just take a bullet or two to knock the enemy.
R1895 give the highest damage of 55 an old but effective one. This can seriously kill an enemy with no helmet. This pistol can be used with an attached suppressor of a handgun/smg.
R1895 gives a sharp and overwhelming sound which makes it a nostalgic gun to use.
Recommendation – Players having good tapping skills and aim accuracy can better use the weapon.
4) P1911
A semi-auto pistol has a fire capacity of 7 to 12 rounds with and without extended mag respectively. P1911 gives a fire rate of 0.11 seconds, which takes almost two headshots to take the enemy down. This pistol can be a deadly one with proper taps and accuracy. One can also attach or equip a scope and muzzle to it. This pistol is not highly preferable if given by choice.
P1911 has a slow muzzle velocity of range 250 per second, which makes it an odd pistol to use from more than 50 meters of range. One can attach Holographic sight, a red dot with a laser sight at the lower rail. One can even attach a suppressor of a handgun to attack violently on the enemies.
Recommendation – It is more suitable for the player who is good at delivering tap shots.
5) P92
It's a mid-range pistol that comes in handy with decent firepower and ammunition capacity. P92 consists mainly of 3 attachments which are Magazine, Muzzle, Sight. P92 hits damage of 34 as it was reduced in the recent updates with an initial bullet speed of 380 m/s.
P92 consumes 9mm orange coloured bullets for its use. It's a good weapon to use in place of P1911.
This pistol is not fully automatic but used well with the taps it can turn out as a deadly weapon. It also holds 9mm ammo which is one of the largest bullet sizes in the PUBG Mobile. The best part is it has only 2 seconds of reload speed which makes it an effective option.
Recommendation – Suitable for the player with sharp and fast taps.
Comparison of Best Pistols in Pubg Mobile 2022
| | | | | |
| --- | --- | --- | --- | --- |
| S.No | Pistol Name | Base Damage | Reload Time | Fire rate of the Weapon |
| 1 | P92 | 35 | 2s | 0.09s |
| 2 | R1895 | 55 | 6.25s | 0.40s |
| 3 | P1911 | 41 | 2.1s | 0.11s |
| 4 | Desert Eagle | 62 | 2.5s | 0.25s |
| 5 | Skorpion | 22 | 3.1s | 0.07s |
Conclusion
These were the Top 5 Best Pistols in PUBG Mobile, a gamer can use to destroy their enemy within a game. Every single pistol has its own specification, strong points and lackings. The usage and damage of the pistol primarily depend upon the user preference and skill set of the player. If you are good at controlling recoil Desert Eagle is your pick and if you are good at taps having fast tapping movements you shall move towards R1895.
I hope this article has helped you regarding the top 5 best pistols in pubg mobile.