Hello guys, have you watched lots of videos online showing the perfect sensitivity for Zero recoil in Pubg mobile or BGMI? But somehow you still can't get the same no recoil result all the time when shooting enemies. In this blog I will give you guys a Pro exclusive guide getting no recoil in these two games. If you find this blog helpful, make sure you like and share the blog to your friends.
I did a poll in my community asking if you guys play the game with gyroscope. Shockingly, 85% of people play with full gyroscope on. Only 9% of you play without it.

As you may know, One of the key factors to get zero recoil is to play with gyro no matter if you are using full or scope on, as it will get you better and consistent result every time you shoot. But the thing that most people don't know is you should control recoil by both your ads and gyroscope.
Also Read: Joystick Guide (PUBG MOBILE & BGMI) Joystick Size & Position

Position of holding the Phone
The very first thing you may need to find is the most suitable position of holding the phone. There are two common ways of holding the phone.
Option 1: Elbow on the sides of your tummy
Option 1 is that you put your elbow on the sides of your tummy. In this position, you are using your arm and wrist to control gyro. The stability of your gyro may not be ideal, but the good thing about it is that flexibility is very good since you can move your phone freely and easily rotate your gaming chair if you have one. Low gyro sensitivity could be adjusted to make it more stable.
Option 2: Elbow on the pillow
Option 2 is that you put your elbow on the pillow, or on some supportive things. You could be playing the game while sitting on the bed or besides a desk. In this case, you are using your wrist mostly to control gyro, which will be more stable compared with option 1, but the trade-off is that the flexibility is limited. High gyro sensitivity could be adjusted to add more flexibility.
If you are just a casual player, I actually recommend you to use scope on gyro. It is easier for beginners to master and not as tired as using full gyro while playing. Plus you will have stable pre-aim when you are behind cover since your aim is not moving all the time compared with full gyro.
Also Read: BGMIS everything U need to Qualify |BGMI| Complete guide
However, If you are the player who wants to break your limits and don't care about anything else like me, you can use full gyro.
Now lets talk about the gyro sensitivity, if you are a player learning gyroscope the very first time, starting with low sens to avoid dizziness while playing. If you already play with gyro, you probably already have the sensitivity in hand. If not, check my sensitivity blog here learning how to get the best sensitivity yourself.
Now lets talk about how to control recoil by both ads and gyro.
There are normally two types of players:
One is gyro beginners; they mainly use ads to control recoil.
Another one is long-time gyro users, they play gyro for so long, making their fingers lazy and rarely use ads when controlling recoil.
The approach I have for you guys now is going to make you a gyro master and achieve zero recoil. Simply enough, you just need to drag down your right thumb and tilt down your phone when you are shooting. You need to turn both your ads and gyro sens down to a point where you have to use both at the same time, otherwise your aim is out of control.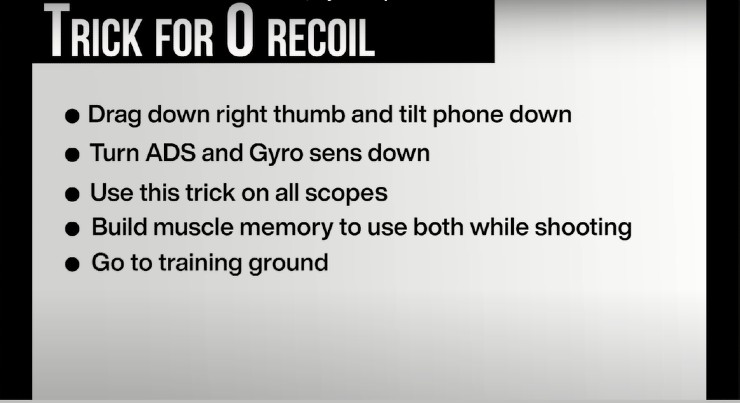 You can use this method on all scopes. The hard part is that you need to build muscle memory so that you will use both while shooting. The best way to train is going to the training ground, find those targets in different distance, and start to practise every time before you play classics. Keep doing it for 2 or 3 days, you will find very obvious improvement on recoil control.
Conclusion:
By the time you master it, you are basically going to shoot people like me. Last but least, you should always crouch or even prone if the situation permits when shooting enemies far, as it will greatly reduce the recoil and make your spray very stable.